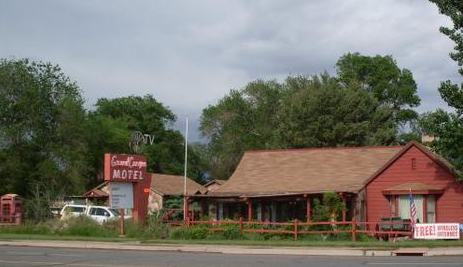 The Grand Canyon Motel in Fredonia Arizona was built in the 1920s as hunter cabins. Later it had been remodeled with some kitchenettes for travelers coming through for the many National Parks and natural attractions in the surrounding area. Being the heart of all of it you can go to a dozen of wonderful scenic places on a day trip. Just to name a few North Rim of Grand Canyon National Park 89 miles away, Bryce Canyon National Park 87, Zion National Park 48 miles, Lake Powell National Park 85 miles, Coral Pink Sand Dunes 27 miles, Pipe Springs National Monument 14 miles, Toroweap 68 miles and The Wave just 65 miles away. It is literary right in the middle of so many beautiful places.
Just down the street within walking distance is the Cowboy Butte Grill & Steakhouse. They have a great menu, excellent food and very filling portions. I myself love the mash potatoes & gravy, but it's all good. Half a block away from the Cowboy Butte is Homestead gift shop. They have Native American arts & craft and southwest gift. Also there is a convenient store / gas station the Sinclair Station two blocks away, all on the same walk or drive. For auto repair less than a quarter mile down the street is Judd Auto. They have Chevron gas & diesel as well as repair shop and AAA towing. If you would like spirits just a couple of miles down the road is the Buckskin Tavern. They have a complete selection of beer, wine & liquor.
The cabins have just recently been remodeled. There is a great courtyard with BBQ grills and patio type tables and chairs for your outside enjoyment. So as you can see The Grand Canyon Motel has everything you need in a quaint setting of a nice quiet little town in the heart of Mother Nature.